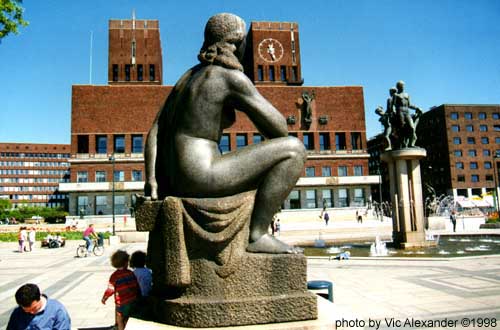 I was born in Oslo, Norway, and I went to school and graduated from college before coming over to the US. I trained in singing, modeling and acting and later joined a theater group and performed in many plays.

Norwegians are very supportive of the arts. We have sculptures and fountains all over Oslo. We have many museums and galleries, and of course theaters, not just movie houses, but theaters where major dramas are performed all year long. There are four major theater companies in Oslo alone.


There are many other sculptures in this area. There is a park devoted to Gustav Vigeland sculptures, named after him. I will be posting many pictures about Norwegian arts on my pages. Keep coming back and you'll see more of Norway's art.

I have used Edvard Munch paintings in my movie's opening title sequence. There will be many Munch paintings posted on that page.

Oslo Fjord is facing the main view from city hall. There are many beautiful sailboats and yachts moored there. Below you'll see a picture of the Oslo Castle.

Norway has been a major maritime nation from the time of the Hansiatic League. Bergen was its major port, however Oslo, also known as Christiania before, played a part.

During World War II Norway joined the Allies in the war against Hitler and the Norwegian seamen were the main suppliers of the Allied forces by sea. Norway lost fifty percent of its maritime tonage during the war. Norwegian commandoes destroyed Hitler's heavy water plant in Telemark, Norway, and single handedly sank the warship Blücher.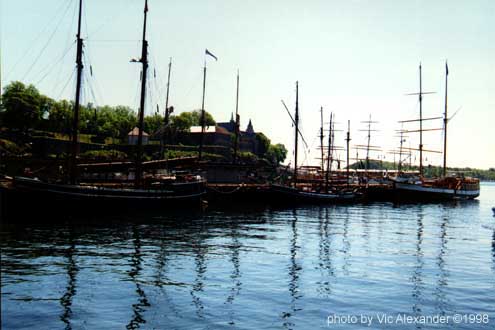 Index | Norwegians |